Seamless Guttering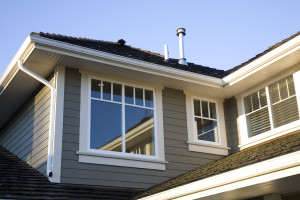 Brookside Roofing takes the guttering application very seriously, not just as an accessory to your roof, but as a necessity in the longevity of your roof. We look for solutions for your home & take the time to determine what is best for it. In an industry where our competitors don't generally take the extra time, we are proud to say that we do. That's the Brookside Roofing difference.
We install seamless aluminum gutters with hidden hangers that eliminate the use of gutter nails (or spikes). As standard we use 6 inch seamless guttering, and to reduce periodic maintenance and gutter cleaning, we use steel mesh gutter screens.
For better drainage, we use 3 x 4 inch downspouts in most applications versus the standard 2 x 3 inch. We will discuss any problems that you have incurred regarding your current guttering and recommend solutions to avoid potential basement flooding and ground erosion. From adding more downspouts, replacing 5 inch gutters with 6 inch, rest assured that Joe will take his time to understand any issues you may be having and recommend the best solutions for your home.
Our guttering has a standard 10-year labor and material warranty with any new roof installation. Many different colors are available to match your home décor. Contact Joe today; he would be happy to discuss your specific needs for guttering. All estimates are FREE.